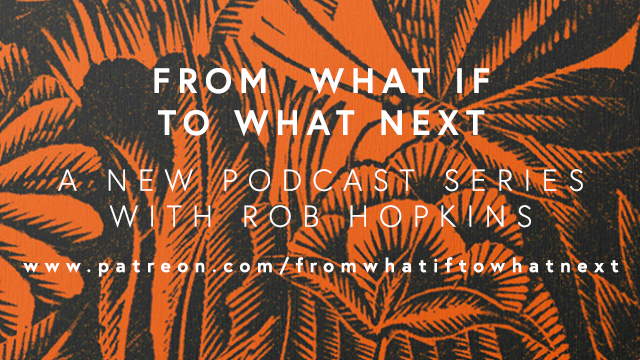 Podcast
I recently started a new subscriber-supported podcast series called From What If to What Next. The series builds from the book, inviting subscribers to send me their 'What If' questions and I then go and find the best people to help us explore how we might move from that question to it becoming a reality.
For just £3 a month, you will get:
One episode of the 'From What If to What Next' podcast every two weeks, each exploring a different 'What If' question
One episode of the subscribers-only podcast 'The Ministry of Imagination', in which we invite our guests to become Ministers in our amazing Ministry
Occasional other treats, such as our interview with Tom Carnac, other videos and podcasts just for you, treats like our upcoming interview with Rutger Bregman and others, and the opportunity to ask the What If questions that shape the podcast.
Here are the episodes that have been shared more widely. Subscribers are already at least one episode further into this series than those that have been made available here. So why not subscribe now, support the work I'm doing and give your ears, your heart and your imagination a big treat…
One subscriber recently wrote of one of the podcast episodes:
"It gave me clarity on my own sense of optimism and resilience against being despondent … and a sense of what I'm empowered to change and therefore, how to live life well and let go of any boom or bust notion of change making"
Episode One: What if birdsong drowned out the traffic?
Episode Two: What if a Universal Basic Income sparked a revival of the imagination?
Episode Three: What if cities relocalised their food system?
Episode Four: What if doctors' surgeries became catalysts for Transition?
Episode Five: What if we treated people at the end of their lives with the same reverence,  care and love as we do at the beginning of their lives?
Episode Six: What if imagination were a universal right?
Episode Seven: What if every city used Doughnut Economics?
Episode Eight:
What if communities had spaces where they could come together to imagine?
Episode Nine: What if we lived in a wellbeing economy?
Episode Ten: What if we decolonised education?
Episode Eleven: What if we had the skills and abilities to talk to decision makers?
Episode Twelve: What if criminal justice resources were instead invested into communities of colour?
Episode Thirteen:
What if governments factored future generations into law and policy?
Episode Fourteen: What if we were to respond to the debt crisis with art and playfulness?
Episode Fifteen: What if we learned to love weeds?
Episode Sixteen: What if we took play seriously?
Episode Seventeen: What if indigenous wisdom could save the world?