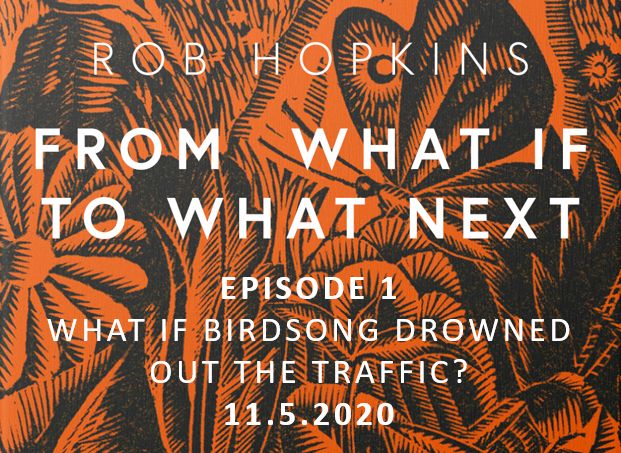 A taste of the first 'From What If to What Next' podcast
Yesterday I posted the first edition of 'From What If to What Next', my new podcast. I will post it here in a couple of weeks, but people who subscribe to my new Patreon page get early access, plus access to the exclusive 'Ministry of Imagination' podcast. This episode featured Sam Lee and Mya-Rose Craig and it was just beautiful. Here is a taste of a part of it. It has already had some great reviews:
Rodrigue wrote "Perfect podcast to take a break during this stressful era of coronavirus, and climate breakdown, and and and… This podcast does not hide from reality, but glance with the most intense eyes to the not even hidden gems of it. I'm reading a lot about the climate situation, leading to emotional roller-coaster. When I'm at the bottom, I usually take a shot of Rob's work to restore a bit of joy and hope. So, thank you for that".
Keith wrote "I very much enjoyed this podcast. I must admit that at first glance I felt there were more pressing topics to discuss. But having just listened to your panel, I realized that birdsong is a universal signal of lush ecosystems. I have had numerous discussions with friends and Neighbours about how nice it has been to have clean air and quiet streets where birdsong seems to magically have returned during this lockdown. A very poignant topic and very well timed. Cheers!".
Jessica wrote "Loved it: exactly what I needed to listen to today. I closed my eyes and imagined what my town would be like if bird song drowned out the traffic and it brought a huge smile to my face. Thank you🙂".
Greta wrote "Beautiful, thank you Rob. Mya's work engaging young BME people is so important and inspiring and Sam's description of nightingale song and sitting round a campfire sounds so appealing right now as I stand washing dishes in a suburban flat with a view of next door's wall! I love the line at the end, equating getting to know nature as being like growing old with a lover. Great first podcast!"
Do subscribe, and join me on this journey.