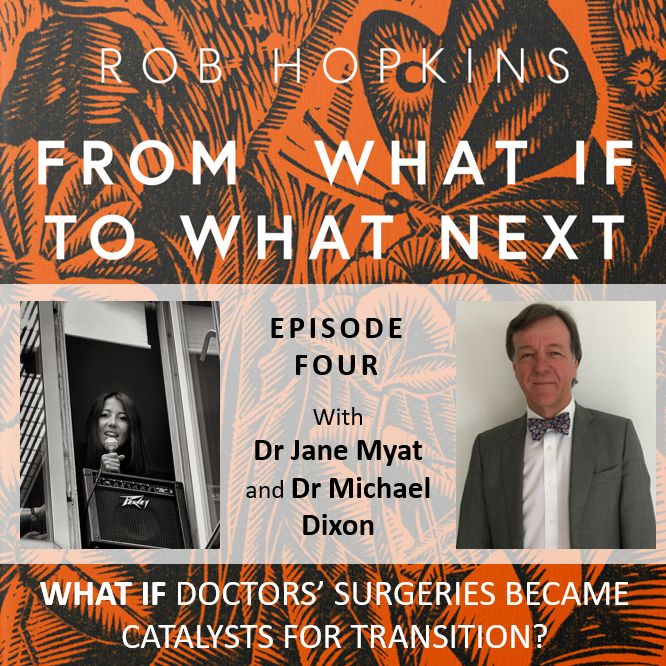 From What If to What Next: Episode Four.
In our fourth episode, 'What if doctors' surgeries became catalysts for Transition?', we bring together two of the UK's most pioneering doctors to explore what a very different future for healthcare could be like. What would it be like if doctors' surgeries were key players in the wider Transition of the community, actively stimulating a reimagining of food, energy, community and much more?
In this episode we are joined by Dr Jane Myat, doing amazing work at the Caversham Group Practice in Kentish Town, North London since 1997. She is a passionate advocate of finding alternative patient-centred approaches to long-term conditions. Inspired by pioneering GPs such as Sam Everington and by our second guest here, and assisted by Transition Kentish Town, Jane founded the Listening Space, a project centred around a community garden in the courtyard of her family practice.
Dr Michael Dixon is a Devon GP whose CV and list of roles within the NHS is glittering and includes numerous national leadership roles. To name just two, he is a Chair of the College of Medicine and Clinical Champion for Social Prescription (NHS England) and Chair of The Institute for Social Prescription.
Please consider subscribing and becoming a Patron of this podcast. For just £3 a month you will receive two podcasts like this one, plus two exclusive bonus 'Ministry of Imagination' podcasts,  plus occasional other treats like our recent conversation with Rutger Bregman, and the opportunity to shape future episodes. Thank you.