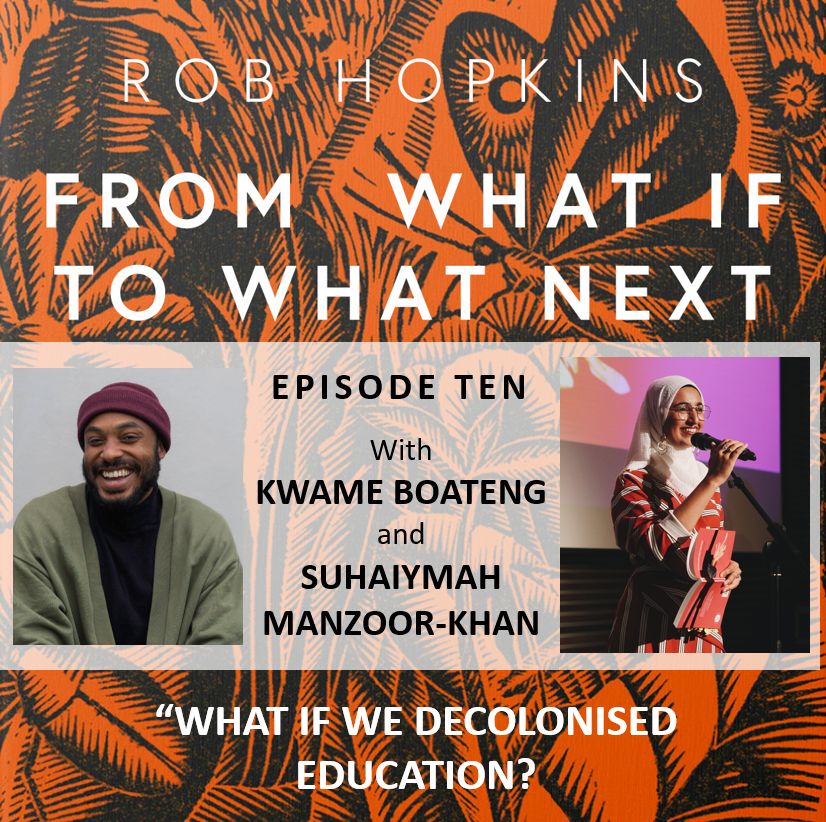 From What If to What Next: Episode 10
The uprising of Black Lives Matter and other organisations have led to many calls for the decolonisation of education at every level. But what does it mean to decolonise education? As Boris Johnson dismisses such calls as a "national orgy of self-embarrassment", does decolonising education mean simply changing the curriculum, or does it go much, much deeper than that? And what if we achieved it? What would it be like to live in a world where that had happened?
In this deep, rich and fascinating episode of 'From What If to What Next' we are joined by two amazing guests to explore this. If you enjoy this episode, why not subscribe and get new episodes two weeks before they appear here, as well as accessing other goodies, such as our 'Ministry of Imagination' podcasts.
Suhaiymah Manzoor-Khan is an educator, writer and poet from West Yorkshire, UK. Her work disrupts and interrupts questions of history, race, knowledge and power – interrogating the political purpose of narratives about Muslims, migrants, gender and violence in particular. She is the author of poetry collection, Postcolonial Banter, co-author of the anthology, A FLY GIRL'S GUIDE TO UNIVERSITY: Being a woman of colour at Cambridge and other institutions of power and elitism and hosts the Breaking Binaries podcast.
Kwame Boateng is passionate about de-colonial approaches to education and community development. Having extensive experience with Black youth in rural areas of the UK which are still lacking racial integration, Kwame decided to begin his studies in social anthropology and development focusing on race, identity and their respective intersections with education and transformative pedagogy. At present Kwame is working closely with 'The Black Curriculum' as an educator. Their objective is to incorporate Black British history into the national curriculum to aid a holistic understanding of British identity rooted in respect, reciprocity and empowerment.