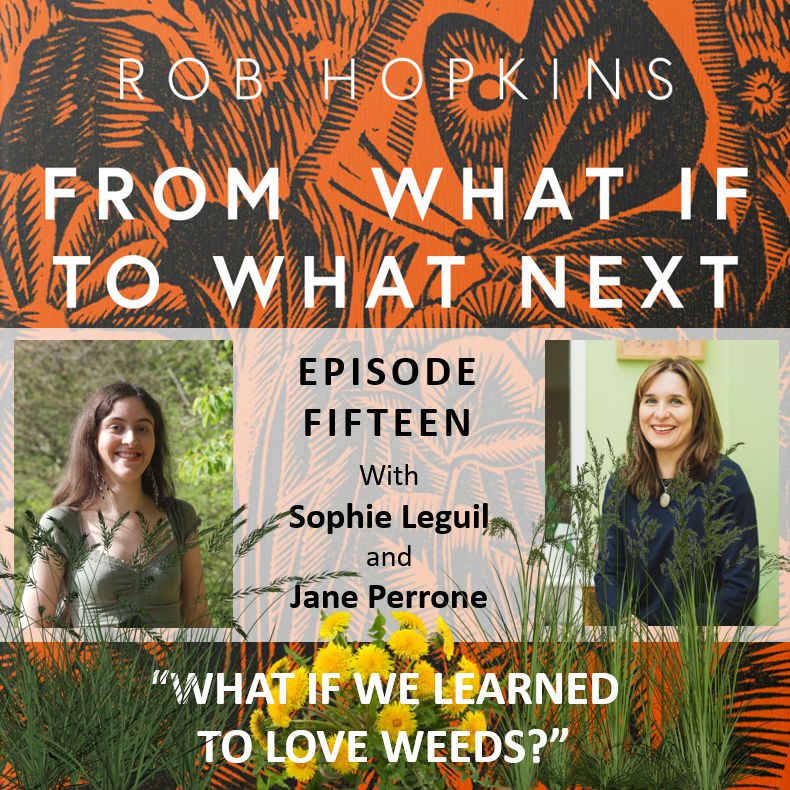 From What If to What Next: Episode 15
During the first Coronavirus lockdown in the UK, a strange phenomenon was seen in towns and cities across the country. As councils became unable, or unwilling, to maintain their usual programmes of spraying weeds and cutting grass, pavements began to feature what had previously been dismissed as 'weeds'. In response, and using a hashtag #MoreThanWeeds, people began using chalk to circle them and to write their names, both common and Latin.
In this podcast we explore how different the future would be if we were to cultivate a culture of better understanding and loving weeds. How would it affect the world around us, and how would it affect us? And how does the way we talk about that dazzling diversity of plants that we dismiss as 'weeds' give insights to how many people 'other' groups of people such as immigrants? What does our attitude to weeds tell us about ourselves?
For this, our fifteenth episode, we are joined by two people who have been central to this chalky-fingered rebellion. Sophie Leguil is a freelance botanical consultant, writer, translator and nature tour leader. In 2019, she created the project "More Than Weeds", which hopes to change people's perception of urban flora and inspire authorities to adopt biodiversity-friendly practices. Sophie previously worked for the charity Plant Heritage, developing initiatives to conserve the diversity of garden plants in the UK. Having lived in Brussels and London, she became interested in urban greening issues, particularly in relation to planning. Using her background in ecology and horticulture, she is advocating for better landscaping choices in cities, to create healthy streets and spaces for both humans and wildlife."
Jane Perrone is a freelance journalist, and presenter and producer of indoor gardening podcast On The Ledge. She is currently crowdfunding a book on houseplants called Legends of the Leaf.  She loves growing houseplants inside and raising weird veg in her garden, and walking in the countryside with her hound Wolfie. She has a background in news journalism, spending more than 20 years working in local newspapers, then joining the Guardian as a reporter online and working her way up to an online news desk editor. In 2008 she became gardening editor at the Guardian, editing the gardens pages of Weekend magazine, making the Sow, Grow, Repeat podcast with Alys Fowler and writing features, news stories and blogposts. She left in 2017 to become fully freelance.
My thanks, as always, to Ben Addicott for theme music and production. Do let me know what you thought of this episode. Thanks for listening.