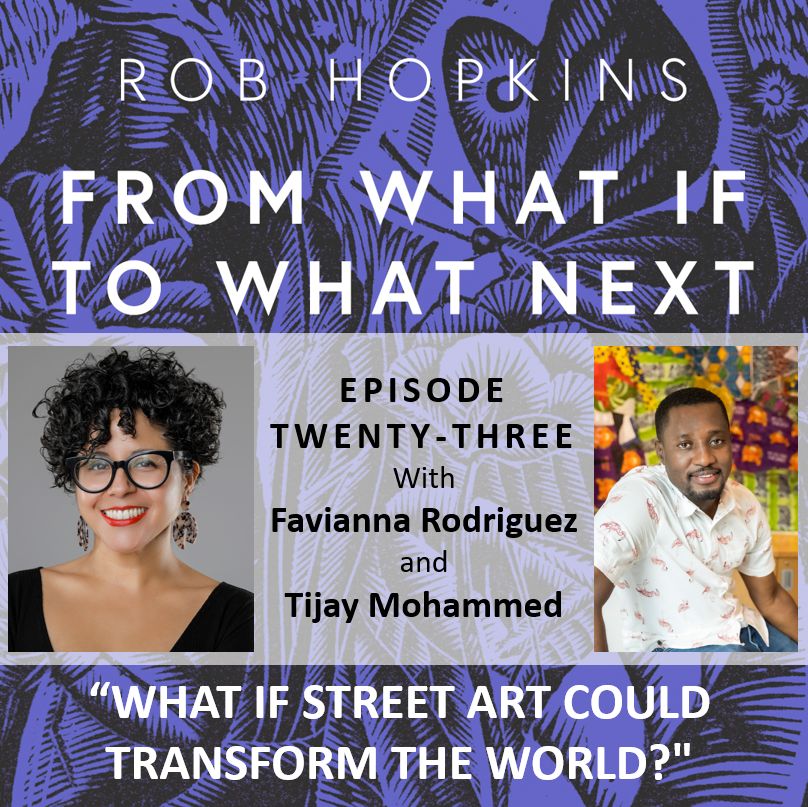 From What If to What Next: Episode 23
Welcome to Episode 23 of our journey together into the imagination and into the powers of What If. Today we are looking at street art. Street art has stood alongside the fight for climate justice, the Black Lives Matter revolution, and pretty much every mass uprising for change through history. But is it just decoration? Or does it have the power to deeply shift a culture? To fire the collective imagination? And what if it was everywhere?
I am joined today by two incredible, insightful, passionate masters of this particular artform. Ghanaian-born artist Tijay Mohammed combines his work as an artist, with numerous accolades and residencies, as well as working with the diverse communities he surrounds himself with. He lives in the Bronx, New York, and was one of the artists who created the huge Black Lives Matter mural in that city. He also maintains a studio in Ghana which serves as a sanctuary for visiting artists to interact with local residents, promoting multicultural dialogue through story circles and art workshops, a source of motivation for him in both his studio and teaching practice.
Favianna Rodriguez is an interdisciplinary artist, cultural strategist, and social justice activist based in Oakland, California. Her art and praxis address migration, gender justice, climate change, racial equity, and sexual freedom. Her practice boldly reshapes the myths, stories, and cultural practices of the present, while healing from the wounds of the past. Her work serves as a record of her human experiences as a woman of color embracing joy, sexual pleasure and personal transformation through psychedelics as an antidote to the life-long impacts of systemic racism. She is the co-founder and president of The Center for Cultural Power, a national organization igniting change at the intersection of art, culture and social justice.
Both are phenomenal, and I am so grateful they were able to find the time to join me. I hope you love this discussion. Do please let me know what you thought of it, using the comments box below. My thanks to you for supporting this podcast, to my guests, and to Ben Addicott for production and theme music. Join me next week when Favianna and Tijay join me in the Ministry of Imagination….