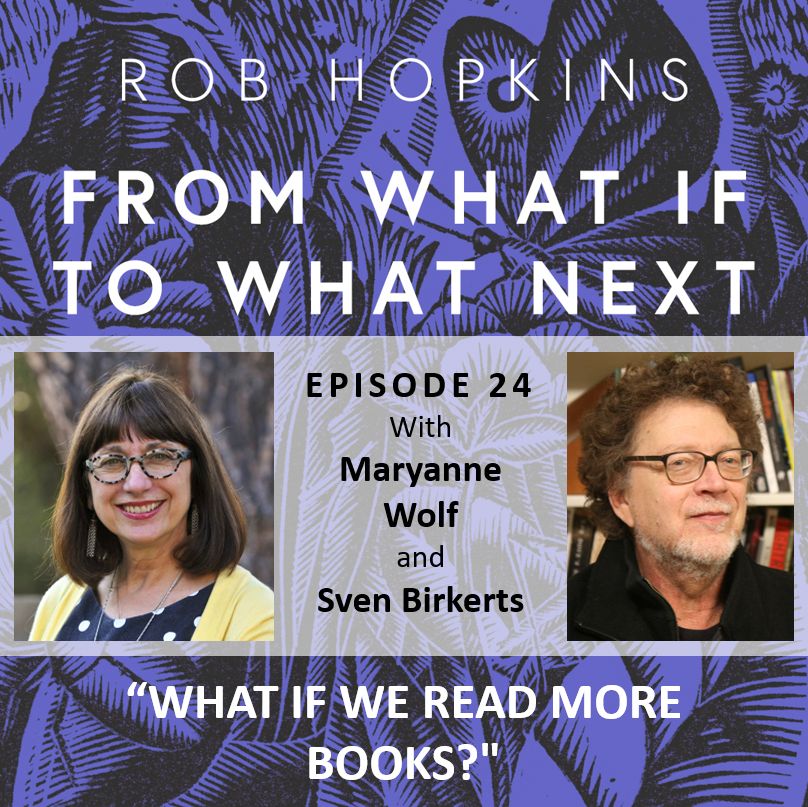 From What If to What Next: Episode 24
When was the last time you read a book cover to cover? And if you are still able to do this, do you feel you read in the same way you did, say, 20 years ago? How is the decline in our collective attention span affecting our ability to read and, by extension, our collective capacity for knowledge, wisdom and art? What do we lose when we lose our ability to focus? This was such a fascinating conversation, with two people who have given this question a great deal of thought.
Maryanne Wolf  is a scholar, a teacher, and an advocate for children and literacy around the world. She is the Director of the  newly created Center for Dyslexia, Diverse Learners, and Social Justice at the UCLA Graduate School of Education and Information Studies.  Previously she was the  John DiBiaggio Professor of Citizenship and Public Service and  Director of the Center for Reading and Language Research in the Eliot-Pearson Department of Child Study and Human Development at Tufts University.  She is the author of Proust and the Squid: The Story and Science of the Reading Brain, Dyslexia, Fluency, and the Brain Tales of Literacy for the 21st Century and most recently of the brilliant Reader, Come Home: The Reading Brain in a Digital World.
Sven Birkerts defines himself as an essayist, a teacher of writing, and the editor of a literary journal at Boston University called AGNI.  He started out as a book reviewer, which led him into becoming a writer of essays and memoirs. In 1994 he wrote 'The Guthenberg Elegies', which explored the demise of reading and the rise of digital culture. It's a phenomenal book. Then, in 2015, he wrote 'Changing the Subject', an update on his relationship with digital media, and a powerful cry for the importance of attention and imagination in a time where both appear to be waning.
More recently he has become, as he puts it, "kind of obsessed, both in a very literal 'get and out and do it' way, but also thinking about it, by taking photographs. With his phone. As he puts it, "It has become a little fixation of some sort that has me thinking a lot about how we take in the world and what we keep and what serves us, and what is artistic and what isn't". He lives in Arlington, Massachusetts. I interviewed him previously as part of the research for 'From What Is to What If'.
This was such a great discussion. I hope you love it. Do let me know what you think. And thanks as always to Ben Addicott for theme music and production.