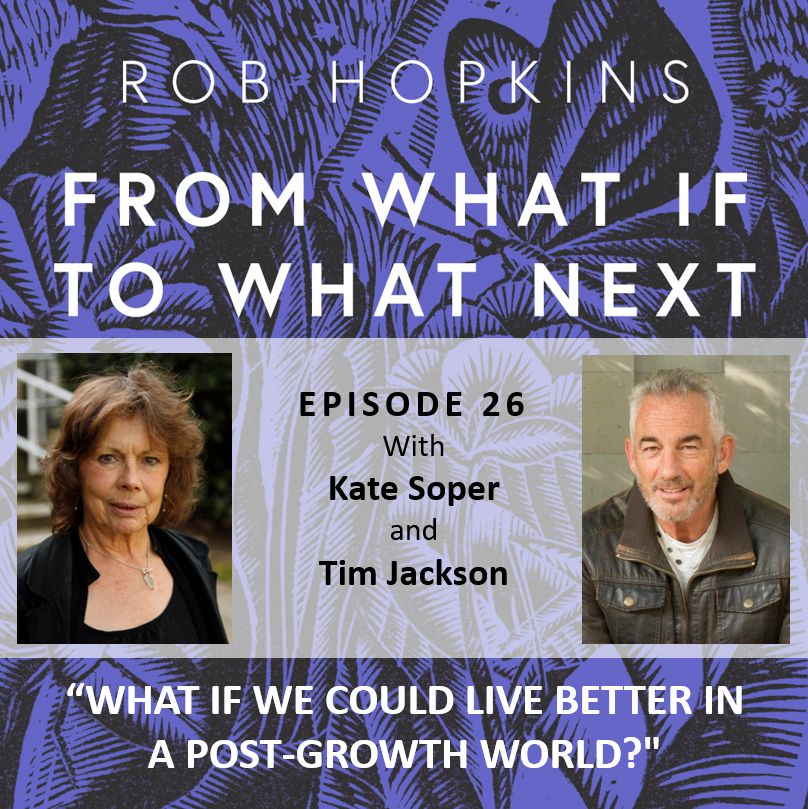 From What If to What Next: Episode Twenty-Six.
These days of COVID have shown us that extraordinary profound reimagining of many aspects of society are entirely possible. Might this be the time to forever do away with the idea that the only way to measure our progress, cultural, social, spiritual, economic, is purely by how much bigger our economy is than it was last year? It's a weird metric… imagine if that was the only way we assessed the growth and evolution of our children? Sure, some growth at the start might be useful, but as they mature, we want to be able to measure their growth and their defining qualities in other ways than just their becoming ever more enormous… And what might the world look like if we did replace this idea of growth with something else?
We are joined for this episode of 'From What If to What Next' by two amazing guests. Kate Soper is Emerita Professor of Philosophy and a former researcher with the Institute for the Study of European Transformations at London Metropolitan University. She is the author, and co-author, of many books, and was lead researcher in the research project on 'Alternative Hedonism, and the theory and politics of consumption' between 2004 and 2006. Her latest book Post-Growth Living: for an Alternative Hedonism was published in 2020.
Our second guest is Tim Jackson, is an ecological economist and writer. Since 2016 he has been Director of the Centre for the Understanding of Sustainable Prosperity (CUSP) at the University of Surrey in the UK, where he is also Professor of Sustainable Development. His book Prosperity without Growth has been translated into 17 foreign languages. His latest book Post Growth – life after capitalism was published by Polity Press in 2021. In 2016, Tim was awarded the Hillary Laureate for exceptional international leadership in sustainability.
Stand by for a fascinating conversation that will upend your sense of what an economy can be, and how we might measure its progress. Do let me know what you think of this episode. See you next time!