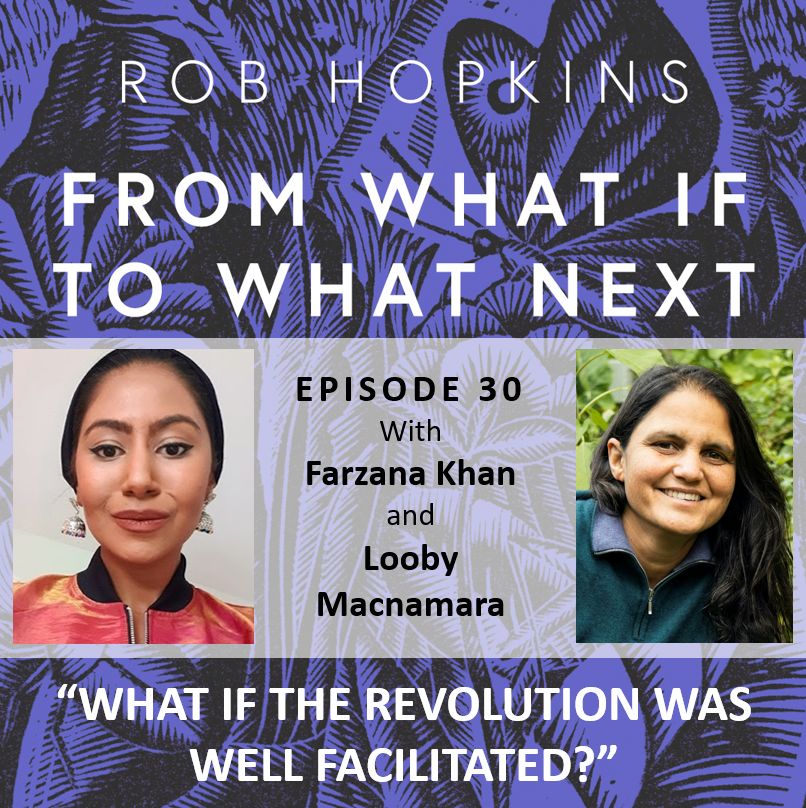 From What If to What Next: Episode Thirty
Episode Thirty. Wow. Whoever thought we'd get this far? Thank you so much for your support in making that possible. We have a delicious episode to mark this moment. We are joined today by Farzana Khan and by Looby Macnamara to explore 'What if the revolution was well facilitated?' It's a beautiful exploration of why good facilitation is such an important element of changemaking. We hope you love this, our 30th episode. Bring on the next 30!
Farzana Khan is a writer, director, cultural producer and award-winning Arts educator. She is the co-founder and Director of Healing Justice London. She has a background in Youth and Community work particularly focused on artsbased education projects both in the UK and internationally. She was also the former creative and strategic director at Voices that Shake and is currently a Fellow at the International Curatorial Forum.  Farzana was recently awarded Writer in Residence at Toynbee Hall, working on 'All Water Has a Perfect Memory' a screenplay exploring trauma, poverty, womanhood and bodily dignity amidst gentrified East London and ecologically violent times
Looby Macnamara has been teaching permaculture for nearly 20 years. During this time she has been a pioneer of personal and social permaculture, authoring the first book globally to focus on the peoplecare ethic People & Permaculture. Looby is also author of 7 Ways to Think Differently and Strands of Infinity. Her latest book, Cultural Emergence shares a pioneering toolkit for regeneration and transformation. She runs Applewood Permaculture Centre in the UK with her partner Chris Evans. She is also one of the partners of the European Mother Nature project, empowering mothers. Looby has been an active member of the permaculture community, and was a chairperson of the Permaculture Association and is a senior diploma tutor.