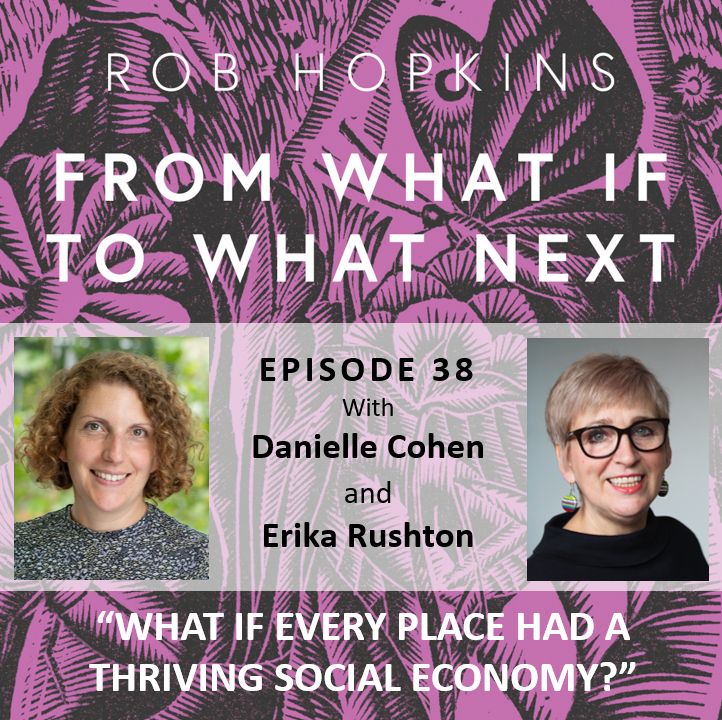 From What If to What Next: Episode Thirty Eight
Everywhere, where you live included, has a patchwork of organisations of different sizes who are doing business and making things happen in a way that is not solely about the generation of profit, but about serving a larger social purpose. They might be called social enterprises, or socially-trading organisations, or all sorts of other things.
Today's episode asks what if they got together and designed how better they might join up and work in a more connected way? What if they offered peer to peer support between each other? What if the Mayor of the city got behind this new network, and saw it as an opportunity to invest and support the emergence of a new economy? What if that investment was then, as each enterprise found its feet and generated surpluses, reinvested back on a pay-it-forward basis to help other emerging enterprises? And what if this skilful support for a new economy spread and spread and became the default model for how to regenerate the economies of towns and cities across the land?
Sounds good doesn't it? Well stand by. You're about to hear a story of how this is actually happening, one you won't have read about in the papers or seen on TV, but it's very much a reality. I am joined by two amazing guests who have played an active role in making this happen.
Danielle Cohen joined Power to Change, the independent trust that supports community businesses in England, in 2018. She works in cities and regions to enable the community business sector to flourish as part of the local economy. Her work has included partnering on the development of Kindred, a social investment vehicle owned and led by the social economy in Liverpool City Region, backed by the city region's Combined Authority and Power to Change. Before joining Power to Change, Danielle worked in urban regeneration, community engagement and corporate responsibility, including as deputy CEO of a central London BID. She believes passionately in building a regenerative economy which nurtures people and planet.
Erika Rushton has 35 years of experience in supporting and investing in communities and creative enterprises to create, grow, occupy and reinvent their own economies. She has worked with homes, workplaces, towns, whole cities, industry sectors and communities of interest at a regional, national and international level.
She is the Director of Creative Economist whose current contracts include Islington Mill Arts Club to deliver The Other City – an Artist led £7 million redevelopment of heritage and modern buildings accommodating 150+ creative enterprises; Women In Space a network of 25+ creative women from across the UK who have taken over unwanted land and buildings, creating value and giving places new purpose; and Kindred, which you'll hear more about shortly. She mentors creative women leaders nationally and internationally; lectures internationally; and works voluntarily to address intersectional gender discrimination in the UK.