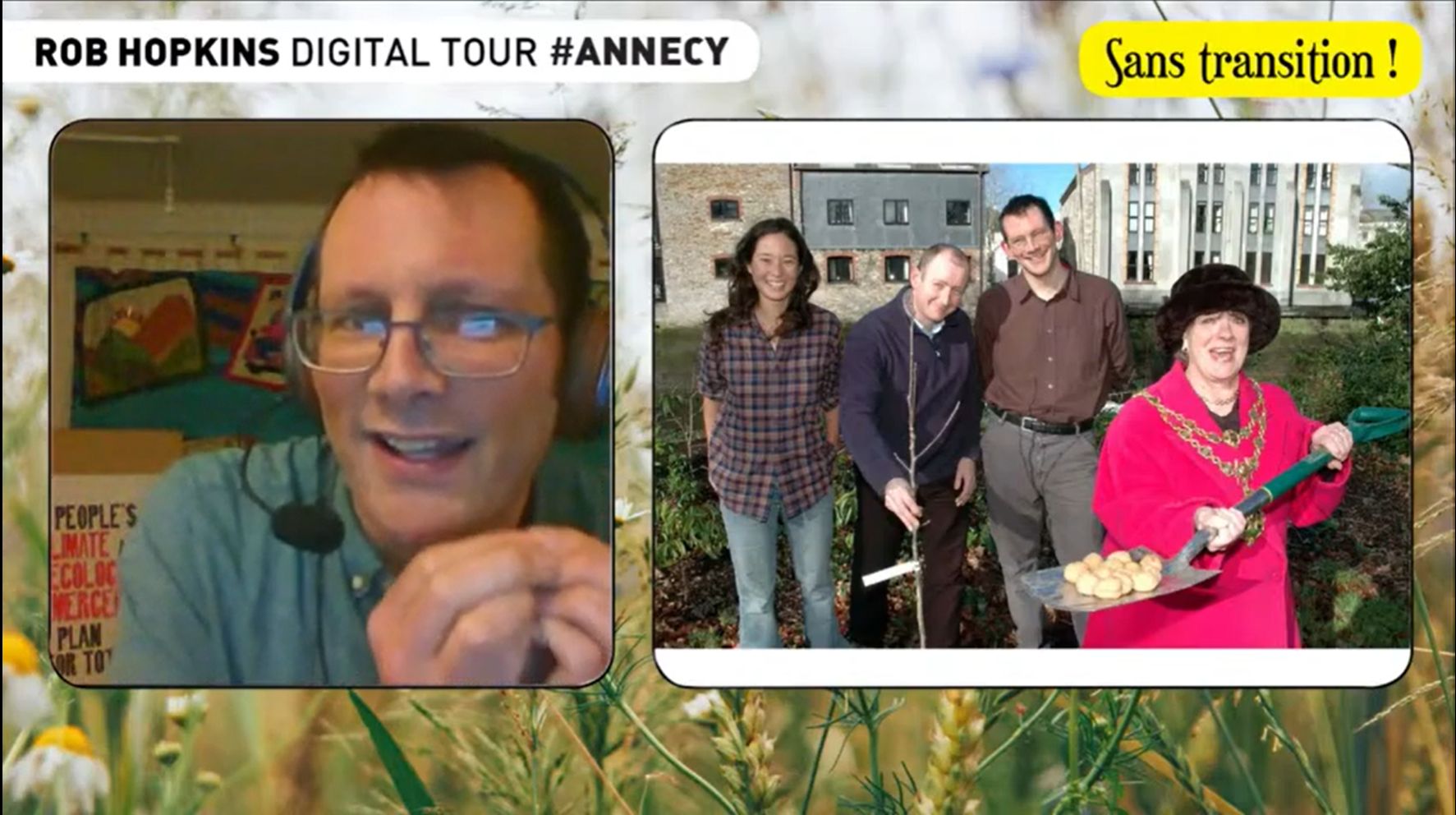 Reflections on my French Digital Transition Tour
For obvious reasons, my proposed tour of France, organised by the wonderful Sans Transition magazine for the last week of January and the first week of February was unable to go ahead. Gone were my long days on trains and dashing from place to place of previous tours, my sampling of exquisite local French beers, and meeting Transitioners and other activists from there. But instead, within the limits imposed by our inability to do it in person, it all shifted online, and it worked amazingly well.
We used a platform called VMix, which meant that each presentation became a multimedia event, like a TV show, with video clips and guests and other things, as well as me giving a presentation and responding to questions from local activists and audience members. Aided by the wonderful translation team of Xavier, Isabelle, Rachel and Bart and the great Sans Transition backstage crew, and beautifully presented by Sans Transition directors Magali and Julien, it was a fascinating thing to be part of.
The first event, on January 27th, was to the city of Lyon. In the afternoon, I met with Gregory Doucet, the Mayor of Lyon, and his cabinet, to talk about Transition, and about the work they are already doing in the city to decarbonise and transition the city, and the challenges and opportunities that are arising. In the evening we did the first show, which had some teething problems relating to translation and the technicalities of doing that, but which went fine.
Next day I was the guest of the Macif Foundation and the theme was solidarity. Then in the evening was a public event, by which time we were getting a bit better at getting the whole system working better.
Next day was the city of Nantes, where the municipality has, over a few years, done some really interesting work with a city-scale citizens assembly and now an ambitious energy transition plan, and a food transition plan for the city. In the afternoon I met with a group of committed citizens and professionals working in this kind of area, and then in the evening was the public event. Again, really well attended, and with great input from local activists. It is one of the things Sans Transition do beautifully, inviting Transitioners, local currency activists, people who've set up local co-ops and others to present themselves and to play a role in the events.
The events of February 1st and 2nd were set in Bordeaux. On the morning of the 1st I met with local government officials and talked about the challenges of taking bold action, but also about their commitment to doing to, as imaginatively as possible.  The second day's event was a meeting with local young people, many of whom have been involved in the youth climate strikes. Their energy made it a really special event, possibly the best of all of them.  It was the first talk with the new headset I bought, hoping to improve the audio quality…
The final date on the tour was in Annecy, the city until that day my only association with was that it was the site of one of the most disastrous holidays of my life.We always have a running joke with the organising team that, like any good rock band, at the end of a tour like this we trash our hotel rooms and drive a car into the swimming pool, but that it was a struggle to think of an online version of that. The talk, introduced by Francois Astorg, the Mayor of Annecy, went really well.
So, in spite of a pandemic, and not being able to travel in person, there is still so much we can do to share ideas and to dream of the future beyond the current restrictions. How long until I am again able to do such things in person, and how long until I can once again give talks in theatres with unmasked audiences? Not too long I hope. But in the meantime, we can be flexible and creative, and we can create alternative approaches that can actually reach more people than physical talks do. I get the sense from the Mayors I spoke to, that a deep commitment to meaningful and ambitious transition is growing across France, and that the recent court case where the French government was found guilty of failing to adequately address climate change, the Citizens Assembly for the Climate, the sweep of Green and municipalist parties in the last local elections, and opinion polls showing a growing concern over sustainability issues, are together driving far more ambition that we've seen previously. Fascinating stuff.
My thanks to Julien, Magali, Stéphane, Bénédicte, Julie, Quentin, Garance-Anne, Léonore,  and all the Sans Transition team, to Xavier, Isabelle, Bart and Rachel for their expert translation, to Benjamin for his amazing production, and to everyone else who made it all possible. See you next time, hopefully in person!